AS3 Geom Exporter [EN]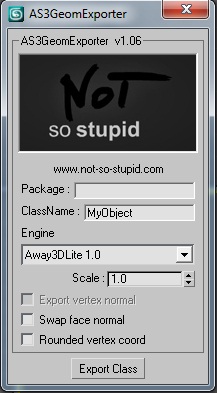 AS3 Geom Class Exporter is a 3DS Max designed script that allows you to directly export 3D models to AS3 classes.
he benefit is that you don't need anymore to load and parse a texte file (collada, ase, obj, 3ds).
You just have to import the class and to create an instance, like you do with usual objects like plan, sphere and box classes.
This script is compatible with the following AS3-3D engines :
Away3D Lite 1.0 v1.06
Away3d v1.00
Sandy 3.0 v1.00
Papervision 1.5 v1.00
Papervision 2.0 thx to Mr Doob v1.00
2 simple way to use:
Download zip file and unzip in any folder.
In 3DS Max, select « MAXScript » tab and « Run Script » now select the
AS3GeomExporter.ms file and TADA a floater window apear !
you can also drag&drop the AS3GeomExporter.ms file into the 3dsMax program and TADA a floater window apear !
Options :
- Package : the exported class package
- ClassName : the class name
- Engine : the 3D engine you want to use
- Scale : scale the 3D object
- Swap face normal : with some 3D models, the faces export is swapped, you can fix this by selecting this box.
Download demo sources and 3ds max script