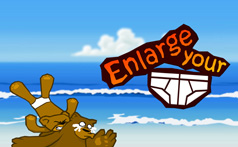 Enlarge your (pants, slips or underpants) was developed with AIR for mobile devices using blitting technic.
It takes now advantage of Stage3D using Starling's mod (quick drawing, dynamic Texture packer).
This is a demo of the game running with a solid 60fps framerate. The original game is available on Android Market, Apple Store and Blackberry App World and will support Stage3D when it will come out with AIR3.